Architecture and Historic Homes of Newburgh
John Dickerson will present a lecture on "A Review of Newburgh's Historic Architecture" on Sunday, July 22, 2018 at Preservation Hall. John will describe the architecture of various historic homes and tell us about the history of these homes as they existed in the 1860's.
Residences reviewed in the lecture, such as the A.M. Phelps house, the Koch house, and the Rutledge house, are examples of homes that were constructed by Newburgh's merchants during a time when flat boats and river trade were the means by which fortunes were made. These fortunes were often used to construct what were the most popular architectural styles of the day.
Architectural styles reviewed include, Federal, Greek Revival, Italianate, and Gothic Revival. All of the homes reviewed here were built during the early to mid nineteenth-century and are of brick construction.
This built environment serves as a link to Newburgh's prosperous past and remains an important source for understanding the architecture, the people, and the town they helped build.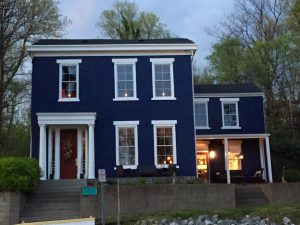 John works for Cultural Resource Analysts, Inc., in Evansville as an archaeological field supervisor as well as Secretary of Interior qualified historian listed on the Indiana roster of qualified professions. As part of his duties he conducts archaeological field investigations, prepares artifact assemblages for museum curation and conducts archival research.
He graduated from Murray State University with a degree in history and archaeology, has a Master's in History from Western Kentucky University with an emphasis on southern U.S. African American history.
Come join us and listen to John's presentation about the architect and history of some of Newburgh's historical homes. This lecture is free to the public and will occur directly before the Historic Homes Tours.