Newburgh Museum Presents
Civil War Homes and Families of Newburgh
 Saturday, July 20, 2019, LaVeranda (East Water Street along Newburgh's Riverfront)
Step back in time as architectural expert and historian John Dickerson gives us a glimpse into the lives and homes of Newburgh residents during the Civil War era.
Schedule of Events
5:00 PM  Social Hour and Browse Pictorial Displays for Homes
6:00 PM  Dinner Served  (from Edgewater) includes Lasagna, Salad & Desert
7:00 PM  Presentation by John Dickerson about the properties and families
Ticket Cost:  $30; RSVP by July 16th   tickets are limited
Tickets Available at Museum 812-853-5045 or call Leanna 812-598-5500 or click here for Event Brite.
Civil War Homes and Church:
Union Bethell House, 122 West Main Street, 1860
William Alfred Abshier House, 526 Section Street, 1820 renovated 1860
Louis Schmacher House, 412 Monroe Street, 1862
DeForest House, 216 West Jennings Street, circa 1860
Saint John the Baptist Chatholic Church, 224 West Jennings Street, 1863
Bates-Walden House, 115 East Jennings Street, 1860; Daniel F. Bates, 1864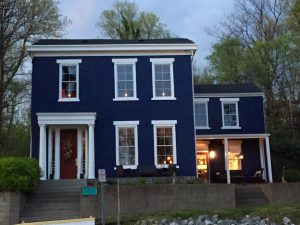 John Dickerson is a Secretary of the Interior qualified historian. He works as an Archaeologists and Architectural Historian for Cultural Resource Analysts, Inc.
He graduated from Murray State University with a degree in history and archaeology, has a Master's in History from Western Kentucky University with an emphasis on southern U.S. African American history.