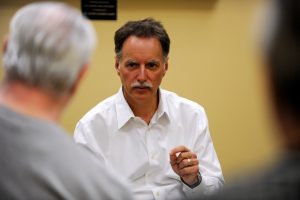 A common farm manager, husband and father, Andrew Huston was your typical Newburgh resident in 1862. Or was he?
Various witnesses, the prosecutor, defense attorney and even the presiding Judge return to Newburgh after 153 years to reminisce about the first trial conducted in the Civil War against a U.S. citizen for treason: Newburgh resident Andrew Huston. Was he a conspirator that helped Stovepipe Johnson's Kentucky Rangers execute their infamous raid on Newburgh in July of 1862, or was he merely a concerned father hitching a boat across the river to get back to his ill children? Quickly tried in U.S. District Court in November of 1862 resulting in a hung jury, the May 1863 retrial will be the discussion topic for a round table discussion moderated by Modern Day Historian and Newburgh resident William Bartelt.
The event will begin on Sunday, July 16th at 4:00 p.m. Doors open at 3:30 p.m. Seating is limited to the first 125 attendees. Please register by filling out the form below. Tickets cost $5.00 a piece and will be sold at the door the day of the Trial.