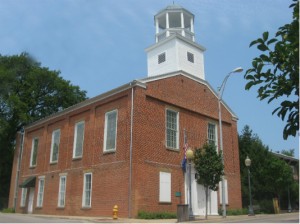 The Newburgh Museum cares for, showcases, and interprets authentic pieces of Newburgh history. Located on the first floor of the Old Newburgh Presbyterian Church, it opened in July 2012 and had about 1,000 visitors through the end of its first year.
The permanent displays at the museum include information about the town's founding, how it got its name, its early industry, a period of decline and how it has changed in modern times. The main exhibit at the museum is changed every few months.
Click here to plan your visit.
Leadership
A diverse group of local and regional figures helps guide the Newburgh Museum in support of our mission. Members of the board of directors are elected in accordance with the museum's bylaws and play an integral role in the life of the museum. More than just supporters of the museum, our directors are community leaders with vested interest in and commitment to the preservation of history in Newburgh, Indiana.
| | | |
| --- | --- | --- |
| Tom Bodkin | Ryan Rokicki | Susan Melfi |
| Ben Sparrenberger | Cris Fulford | Todd Glass |
| Ray Graham | Dennis Haire | Diane Royster |
| Wanda Kavanaugh | Melissa McGuire | Alonzo Moore |
| Stacie Krieger | John Dickerson | Ron Stevens |
| Jim Moore | Leanna K Hughes | Erin Boszor |
Other Staff
Dorothy Sibrel, Registrar