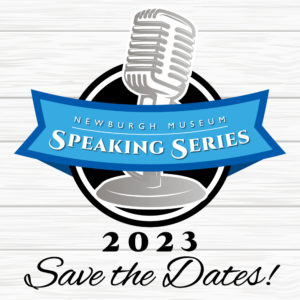 Come join us as the Newburgh Museum hosts a Speaking Series the first Sunday of each month (*with few exceptions, July and September) starting in April from 1-3 pm. Enjoy the latest exhibit, and hear a different guest speaker each month sharing pieces of Newburgh and the surrounding area's history.
April 2: "Women In River History"
Kadie Engstrom is currently Historian for the "Belle of Louisville Riverboats"  as well as Education Coordinator and Docent for the Howard Steamboat Museum in Jeffersonville, IN. Since 1972 Kadie has served in several capacities with the "Belle of Louisville",  the "Mary M Miller" riverboat as well as their wharfboat, historic "Life-Saving Station #10". She has written books, booklets, articles and other resources concerning community history, steamboats, Ohio River history and the histories of the "Belle of Louisville Riverboats" vessels. She has also developed and facilitated educational experiences for children and adults including community presentations and exhibits, classroom and on-board programs for students, workshops for teachers and narrations and tours for groups of all ages.
April 30*: "Influenza of 1917"
Mark Browning, MD, is an experienced, board certified Medical Oncologist and Hematologist at the Ascension St Vincent Evansville Cancer Center. Outside of the office, Dr. Browning enjoys serving on numerous boards in the Evansville community and has direct involvement with the Evansville Wartime Museum, Igleheart Gardens, IU Medical School-Evansville, and the University of Southern Indiana. He has a special passion for geneology and local history.
June 4: "Newburgh 'Old' Dam"
Chris Rutherford has many years of experience and a wealth of knowledge on the locks of the Ohio River. In addition, he has worked at a facility designed exactly like the Newburgh Lock 47….Newburgh's 'Old' Dam.
Learn More – Lock 47 History
July 16*: "Tanks: Panthers, Tigers and Shermans"
Kevin Reid of Evansville War Museum
August 6: "Turn of the 20th Century Victorian Mourning Practices"
Long-time researcher and creator of historically accurate fashions, Dannye Lawson is known for her extensive cultural knowledge of the Victorian and Civil War eras. In 1986, combining her favorite subjects of history and sewing, she became an American Civil War reenactor. Her dear friend, Cindy Nord (author of historical fiction novels) acted as her mentor. Together they engaged in a journey of laughing, learning, and gaining experience in the world of the 1800s and beyond. Dannye has an authentic and varied collection of jewelry, clothing, and items found in the daily lives of the people of those historic times. Mourning practices have been of particular interest. Retired from 30 years in the banking industry, Dannye lives with her husband, Gary, on a small McClean County, KY farm where they raise sheep and poultry. During her spare time away from her sewing machine, you will find Dannye working part-time at Joann Fabrics in Owensboro, KY.
September 10*: Eastminster Presbyterian Church Joins the Museum to Open the Time Capsule of Newburgh Presbyterian Church
Go back in time as the Newburgh Museum opens a time capsule! Yes, on Sunday, Sept 10 join us at Preservation Hall (200 State St.)  at 1pm as we open a time capsule found in the very walls of the Newburgh Presbyterian Church. Watch ladies in period costumes, listen to music of the Civil War Era, see artifacts from the church all while enjoying cookies and lemonade. Rick Zeiher of Eastminster Presbyterian Church will be on hand to discuss the capsule contents.  Please join us for this free and exciting event.
October 1: "Commander Weyerbacher of Warrick County, Designer of Dirigibles for US Navy"
Stan Schmitt is a Vanderburgh County Historian and Library Collections Assistant at Willard Public Library.
November 5: "'New' Newburgh Dam"
Jerry Edwards of the Army Corp of Engineers
---
Our 2022 Speaker Schedule Included: 
Joe Herron: 1787-1803 Northwest Ordinance and Territory
Lela White: George Rogers Clark and Fort Sackville
David Weaver: Indiana Territory and Governor William Henry Harrison 1800-1812
Matt Alschbach: The Lewis and Clark Corps of Discovery 1803-1806
Travis Vasconcelos, Calliopist and River Historian: Showboats and Excursion Boats – When Entertainment Came to the River
Joshua A. Claybourn: Young Abe Lincoln in Indiana 1816-1830
Anne Rust-Aurand: Eldora Miner-Raleigh – 1852-1930, A Woman Ahead of Her Time
Mark Browning, MD: Local Contributions to the WWII Effort
Our 2021 Speaker Schedule Included: 
Jay Davis, Yankeetown FD Chief; retired supervisor/Lockmaster, Newburgh Lock and Dam
Colleen Talley and Jann Allen with the Warrick County Museum
'Visit Yesterday Today'…..learn what's new about the history and culture of Warrick County located in Boonville, IN.
Newburgh Rocks: Ralph Baker, Certified Petroleum Geologist


View Archive Video

Bill Bartelt, co-editor – Abe's Youth: Shaping the Future President


View Archive Video



James Hevron discusses the Lincolns of Spencer County.


View Archive Video

William Clark, with David Lutz, "A Brief Look at Different Ancient Cultures in the Tri-State"
100 Years of Vintage Clothing Revisited: Jennifer Greene, Associate Professor of Library Science and University Archivist at the David L. Rice Library, University of Southern Indiana
The Audubons in Henderson (1810-1819): Heidi Taylor-Caudill, Curator of the John James Audubon State Park Museum, Henderson, Kentucky
Cory Burdette: The Gator Navy – The Importance of the LST in WW2 and Beyond
Our 2020 Speaker Schedule Included: 
Jay Davis, Yankeetown FD Chief; retired supervisor/Lockmaster, Newburgh Lock and Dam
Aaron Luttrull, Newburgh's Civil War Culture and Architectural Landscape
Mike Wittenbraker, Local Firefighting from an Experienced Professional
AJ Mason, The Museum of the Coal Industry, Lynnville
Anne Rust Aurand, Newburgh, England