For the latest news and events, be sure to follow Newburgh Museum on Facebook.
The museum hosts both social and education events throughout the year.
January: Be the first to see the unveiling of a new exhibit.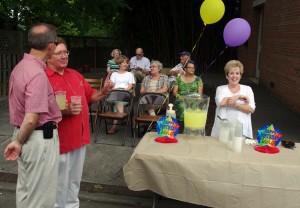 Early Spring: Springtime Garden Party – Held in the gardens of one of Newburgh's fine historic homes.
Late Spring: A 'historic lecture and reception' by a known writer or historian on local history.
Mid-July: Celebrate the museum's birthday with refreshments and a look at one of the new exhibits
Fall: Annual Historic Bus Trip to visit museums.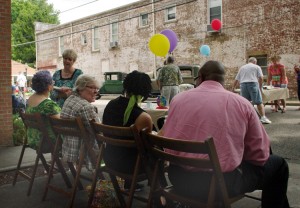 December: As Newburgh Celebrates Christmas, so does our museum; join us for festivities and a new Christmas exhibit. (Dec. 6-8, 2013)
Looking back on a great first year!
During the week leading to the museum's opening In summer of 2012, several community happenings  (both entertaining and teaching events) were offered.
This was coordinated with the commemorative 150th anniversary of the raid on Newburgh during the Civil War.  A gathering of town citizens "met" Colonel Adam Rankin Johnson who appeared in full uniform to tell of his brave soldiers from the south coming across the river to seize the town.  That week also brought about an evening of music, a time for historic tours, and a fundraising gala with dinner and auction.  The official ribbon cutting ceremony for the museum also included a lecture by our own famous author, Ray Mulesky.
Later in the year, the museum opened during some of the community events to join in their celebrations.  This included the Historic Newburgh event for Christmas.