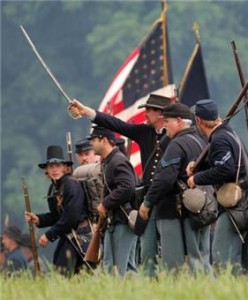 Newburgh will host its third annual reenactment of the Newburgh Raid from Friday, July 20, 2018 through Sunday, July 22, 2018. This event will remember the history of those who participated in, and were impacted by, Johnson's Raid on Newburgh in 1862. "Newburgh Remembers" is an event designed to bring back to life the sights, sounds, and tastes of Newburgh life during the American Civil War. Visitors and participants can:
Experience a re-enactment of a live Civil War skirmish and Sutler Village
Mingle with friends at the Cotillion Ball in period attire*
Enjoy a Ladies Afternoon Tea*
Tour three Historic Homes in Newburgh*
Visit Newburgh Museum and a Civil War Photography Exhibit by Kenneth May
Engage in educational lectures from historians and experts on Newburgh
Listen to Civil War era music and taste food recipes from the 1860s
Attend Church Services
*These are ticketed events
Assisting us with our events
Civil War Reenactment Headquarters-Events, Reenacting Units & Supplies
 Weekend Activities
Events are free unless indicated by asterisk*.
Friday, July 20, 2018
Newburgh Museum presents Kenneth May Civil War Photography Exhibit, Preservation Hall, State and Main Street, 11 am-3 pm
(CLICK HERE to view the Kenneth May Exhibit page)
Re-enactors and Sutlers Encampment, Visit a live re-enactment of a Sutlers village selling goods, clothing and souvenirs under canvas tents. Modern day refreshments, food and treats offered by local vendors. Old Lock and Dam Park, 5:30 pm
Cotillion Ball* : Mingle with friends as if the clock had been turned back to 1862.  Period attire is encouraged, though not required. Join us at Rolling Hills Country Club for cocktails, dinner and dancing. Music provided by the Old Dam Community Band playing music from the 1860's. $40 Museum members; $45 for non-members. Rolling Hills Country Club, Old Plank Rd., Newburgh, IN, 5:30 pm
(General Admission tickets for this event can be purchased through Event Brite (click here) or by contacting the Museum at 812-853-5045.)
Saturday, July 21, 2018
Sutler Village/Food Vendors: Join the fun in the Sutler Village as sutlers sell their wares from wagons and tents to traveling armies and folks dressed in period attire. Old Lock and Dam, 9 am
Wreath Ceremony: Join us for a wreath laying ceremony to honor all veterans provided by Newburgh American Legion Kapperman Post #44 with a bagpipe rendition of Amazing Grace at Old Lock and Dam Park, 10 am
The Raid and Capture of Newburgh Narrative, captured on July 18, 1862 by Confederate forces led by Brig. Gen. Adam R. "Stovepipe" Johnson and a guerilla band without a shot being fired. Old Lock and Dam Park, 10:30 am
Newburgh Museum presents Kenneth May Civil War Photography Exhibit, Preservation Hall, State and Main Street, 11 am-4 pm
School of the Soldier, (under 12) A basic introduction to uniforms, equipment and accouterments of the infantryman. Old Lock and Dam Park, 11 am.
The Abraham and Fannie Phelps Folklore Story, Storytellers Mike and Tammy Deicken portray how the Phelps family came to Sprinklesburgh, built their home (behind Preservation Hall) and what it might have been like to be living in Newburgh during the Raid. Old Lock and Dam Park. 11:30 am
The Old Dam Community Band Performance, Over 40 members of this band will present Civil War era music as well as other musical numbers to enjoy at the Old Lock and Dam Park. 12 pm
Civil War Skirmish: Watch a Civil War skirmish as spectators are drawn in and begin to see what fighting was like during the Civil War. Visit the campsite where canvas tents and a headquarters post provide a view of a soldiers life. Guests will have an opportunity to interact with soldiers and civilians dressed in period attire. Old Lock and Dam Park, 1 pm
Larry Elliott Presents Abraham Lincoln: Abraham Lincoln comes alive with the Gettysburg Address at 2 pm followed by Growing up in Indiana at 2:30 pm. Pictures & questions will also take place afterwards. Tent, Old Lock and Dam Park
Ladies Afternoon Tea*:  Our special guest will be Mary Todd Lincoln who will speak about her courtship with Mr. Lincoln, the White House years and her evening at Ford's Theater. Mrs. Mary Elliott of Louisville, KY has been portraying Mrs. Lincoln for 12 years. Mary Lincoln's life story is told in a way that is both entertaining and historically accurate. Although period dress is not required, we request that there be no shorts or sleeveless tops and that you wear a hat. This event is sold out. Preservation Hall, State and Main Streets. 1:30 pm
School of the Soldier, Old Lock and Dam Park, 2:15 pm
The Abraham and Fannie Phelps Folklore Story, Old Lock and Dam 3 pm
Re-enactor's Dinner and Dance, sponsored by the Museum for Re-enactors only, not open to the public. 5 pm and 8:30 pm respectively
All events at the Old Lock and Dam Park are located on French Island Trail
Sunday, July 22, 2018
Church Service: Provided by Newburgh United Methodist Church, one of the original churches in Newburgh. Tent, Old Lock and Dam Park, 9:45 am
Newburgh Museum presents Kenneth May Civil War Photography Exhibit, Preservation Hall, State and Main Streets, 11 am-4 pm
Civil War Skirmish: Watch a second Civil War skirmish on a slightly smaller scale. Old Lock and Dam Park 11 am
"Architecture of Newburgh" presented by John Dickerson, Archaeologist and Historian, presents a lecture about the history of Newburgh's architecture based on in-depth research. Preservation Hall, State and Main Streets, 11:45 am
Historic Homes Tour*: Sponsored by ERA Realty Office. Get an exclusive look at some of Newburgh's most historic homes, including homes that existed in the 1860's as witnesses to the Newburgh Raid. Participants choose the order of the houses they wish to tour, and each home includes tour guides. 12:30-3 pm
(Tickets can be purchased through Event Brite by clicking here, in-person at ERA State Street Realty Office or through the Museum 812-853-5045)