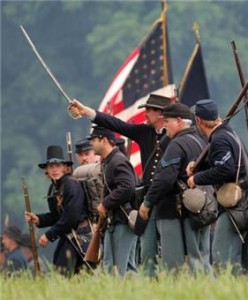 Newburgh will host its third annual reenactment of the Newburgh Raid from Friday, July 20, 2018 through Sunday, July 22, 2018. This event will remember the history of those who participated in, and were impacted by, Johnson's Raid on Newburgh in 1862. "Newburgh Remembers" is an event designed to bring back to life the sights, sounds, and tastes of Newburgh life during the American Civil War. Visitors and participants can:
Experience a re-enactment of a live Civil War skirmish
Enjoy programs and games for the whole family
Listen to Civil War era music and taste food recipes from the 1860s
Engage in educational lectures from historians and experts on Newburgh History
Take part in a cotillion ball with period attire
Assisting us with our events
Civil War Reenactment Headquarters-Events, Reenacting Units & Supplies
Weekend Activities
All events are free to the public unless noted otherwise
Friday, July 20, 2018
Cotillion Ball (5:30pm): A formal ball and social gathering will be held on Friday, July 14th. Interact and mingle with friends and local celebrities as if the clock had been turned back to 1862. Period attire is encouraged, though not required. Food, drinks, and music from the 1860s will make this a social event you won't want to miss. (Tickets for this event can be purchased online, by contacting the Museum at 812-853-5045, or contacting any Board Member)
Saturday, July 21, 2018
Sutler Village/Food Vendors Open: Join in the fun with the Sutler Village and see period attire up close.
Wreath Ceremony: Join us for a wreath laying ceremony to honor veterans at the French Island Trail by the Old Lock and Dam Park.
Raid Reenactment: As Confederate raiders advanced on Newburgh from the Ohio River, Union soldiers guarding the town are duped into giving up valuable firearms. Learn about Newburgh's historic raid.
Civil War Skirmish: Watch a full scale Civil War skirmish and see a picture of what fighting was like. Spectators are drawn in and begin to see a picture of what fighting was like during the Civil War. Beginning at 9:00 a.m., guests will have an opportunity to interact with soldiers and civilians dressed in period attire.
Civil War Era Activities: Join in to interact with the soldiers and see what life was like during the Civil War Era.
Larry Elliott Presents Abraham Lincoln: Abraham Lincoln comes alive with the Gettysburg Address Speech & Growing up in Indiana. Pictures & questions will also take place afterwards.
Ladies Afternoon Tea**: The museum is now selling tickets for the Ladies Afternoon Tea as a part of the Newburgh Remembers weekend. The Tea will be held on Saturday, July 21, at 1:30 in Preservation Hall at the corner of State and Main Streets. Although period dress is not required, we request that there be no shorts or sleeveless tops and that you wear a hat. Tickets are $20.00 each or $120.00 for a table of 6.We are pleased to announce that Mrs Mary Anna Custis Lee will be attending and speaking on "Remembering Arlington", a reminiscence of her life growing up at Arlington House and her family life as the wife of Robert E Lee.This event was sold out last year so we urge you to make your reservations early. You can request tickets by calling the museum at 812-853-5045 or Melissa at 812-457-7043
Civil War Skirmish / Feature Demonstration: Watch a full scale Civil War skirmish and see a picture of what fighting was like.
Reenactor's Supper: Dinner for the Reenactors. (Reenactors Only, Not Open to the Public)
Night Cannon Fire: Come see the Lightshow.
Sunday, July 22, 2018
Church Service: Church Service provided by Newburgh United Methodist Church, one of the original churches in Newburgh, IN.
Civil War Skirmish: Watch a second Civil War skirmish on a slightly smaller scale.
ERA Realty Historic Home Tour*: Get an exclusive look at some of Newburgh's most historic homes, including homes that existed in the 1860s as witnesses to the Newburgh Raid. Participants choose the order of the houses they wish to tour, and each home includes tour guides. (Tickets can be purchased through the website, in-person at ERA Reality's Newburgh Office or through the Museum)