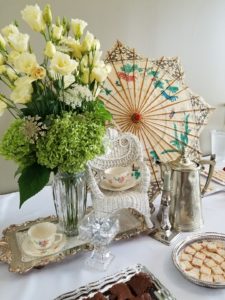 The Ladies Afternoon Tea will be held on Saturday, July 21, at 1:30 in Preservation Hall at the corner of State and Main Streets in conjunction with the Newburgh Museum event, Newburgh Remembers. While period clothing is preferred, we only request there be no shorts, short skirts or sleeveless tops and ladies must wear a hat. This event is sponsored by Deaconess Women's Hospital and Mulberry Jean's Accents.
Our special guest will be Mary Todd Lincoln who will speak about her courtship with Mr. Lincoln, the White House years and her evening at Ford's Theater. Mrs. Mary Elliott of Louisville, KY has been portraying Mrs. Lincoln for 12 years. She has appeared at numerous functions in the US and overseas. She tells Mary's life story in a way that is both entertaining and historically accurate.
This event is sold out. Tickets are $20.00 each or $120.00 for a table of 6. Tickets are available through Event Brite, by calling the museum at 812-853-5045 or Melissa at 812-457-7043.