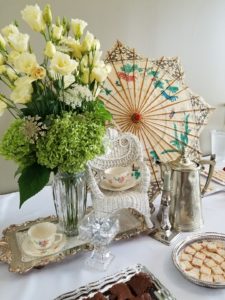 The Newburgh Museum Presents
Newburgh Remembers
Ladies Afternoon Tea
 Saturday, July 20 and Sunday July 21, 2019
At Preservation Hall
The Newburgh Museum will be hosting a Civil War Tea on Saturday, July 20 and Sunday, July 21 at 1:30 at Preservation Hall.
Our special speaker this year will be Elizabeth Van Lew, a Virginia plantation owner during the Civil War and a Union spy.  Her heroism in providing information lead to Union victories during several battles.
Civil War era clothing is suggested but not required. We only ask that there be no shorts, short skirts or sleeveless tops and you must wear a hat.
Ticket Cost: $20 each or $120 for a table of six
Tickets are $20.00 each or $120.00 for a table of 6. Tickets are available by calling the museum at 812-853-5045, Melissa at 812-457-7043 or Suzie at 812-490-4190.  Don't wait as Saturday's tea is sold out and only a few tables remain for Sunday.
Food Sponsor: Mulberry Jean's
Other Sponsors: The Rug Gallery of Newburgh, Friends of Newburgh, Old National Bank, and Newburgh Tax Service