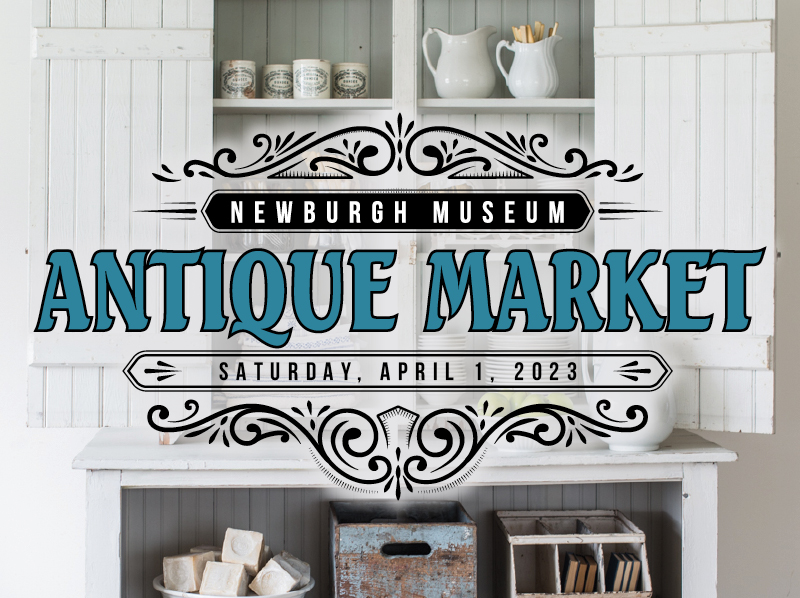 Market Preview Event: Friday,

March 31, 2023
Held at the Newburgh Elementary School (306 State St.) from 5 to 8 pm.
$25 Ticket Includes: Admission to both the Market Preview Event and the Antique Market on Saturday, April 1. Hors d'oeuvres will be served.
Antique Market Open:

Saturday, April 1, 2023
From 9 am to 4 pm at the Newburgh Elementary School (306 State St.). Admission is $5. 20+ antique booths from the midwest region. Well-known antique appraiser, George Higby (see more below), will be available for individual appraisals at $5 per appraisal with limit of three items per person.
Vendor Spaces:

12×12 $100/space
TownePlace Suites Evansville Newburgh has a block of discounted rooms for vendors or market-goers. Be sure to mention the Antique Market for special rate or use this link to make your reservations: TownePlace Suites Group Rate – BOOK NOW!
Market-goers may bring antique items (up to three (3) at a time) to be evaluated for $5/item by on-site Evaluators. 
Call (812) 499-8406 or (812) 853-5045 for more information.
---

More about George Higby
A lot of fun and fascinating old things have come to appraisal fairs, and Higbyhas tales to tell. "People have brought everything from old crocks to French royalty porcelain to appraisal fairs," he notes. "From beautiful sterling candelabra to a 1950s Les Paul guitar, there's been no end to the interesting things people have hidden away in their homes."
Antique appraisal fairs were a natural leap for Mr. Higby, who started in the collectibles business right out of college. "Before eBay, I ran a chain of antique malls that got the cream-of-the-crop in vintage merchandise, so I had to learn a little bit about a whole lot of things!" he explained. An unexpected invitation to be an Antiques Roadshow guest in 1999 led to training with their appraisers, gaining his appraisal certification and holding appraisal fairs around the country.
Mr. Higby's first midwest appraisal fair was in New Harmony last year, and he was suitably impressed with the objects brought by people in the tri-state area. "One woman had saved a folder of 19th century French surgical prints from an incinerator, and they were worth $3000," he noted. Another brought a 1950s teddy bear, dressed in an 1850s child's suit coat that doubled its value.
"I've found that areas like Evansville have more interesting things than bigger cities, because the people who stayed behind kept their family's best. Places like this where Americans made things usually have older and better antiques," he continued. "I'm excited to see what people bring for me to evaluate!"