On 6 November 2005 a deadly F3 tornado struck Newburgh and the surrounding area. It was the first of several tornado events that November, including 8 on this particular day. The tornado resulted in 25 confirmed fatalities across the region, making it the deadliest and most destructive November tornado in Indiana's history. Three significant tornadoes formed from two simultaneous supercells in southern Indiana and western Kentucky — one of them was the deadly tornado that struck Newburgh.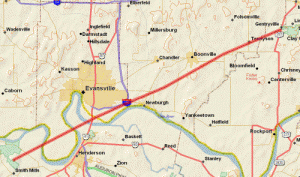 On Sunday, 6 November 2005 at around 1:50 am CST, an F3 tornado touched down 2 miles north-northwest of Smith Mills in Henderson County, Kentucky. The tornado moved northeast, snapping numerous trees, destroying a farmhouse, and throwing a pickup truck into a field. The tornado then crossed the Ohio River and moved across a rural peninsula of Vanderburgh County, Indiana.
Few structures were impacted in this rural area, though a two-story house built in 1875 sustained major roof damage, and tree branches were embedded into the walls of the house. One farm equipment shed was demolished, and another sustained major damage. A 10,000-pound truck was flipped over, and heavy farm equipment was moved several feet. Aerial surveys revealed distinct spiral-shaped scour marks in farm fields in this area.
The tornado crossed the river again back into Kentucky, causing extensive tree damage on both sides of the river. Almost immediately after crossing the river, the tornado slammed into Ellis Park, a horse racing facility. There was extensive damage to grandstands and housing facilities for jockeys. A few race horses were killed there.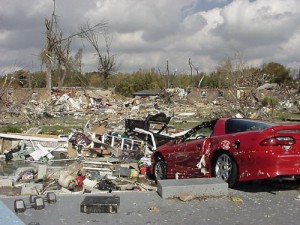 The tornado crossed the Ohio River a third time back into Indiana and across the southern fringes of Evansville. Here, the tornado ripped directly through the Eastbrook Mobile Home Park, obliterating numerous mobile homes and killing 20 people. Of about 350 mobile homes in the park, 100 were destroyed and another 125 were damaged. The coroner reported that most of the victims were probably killed instantly, many by spine and skull fractures. Several bodies were carried almost two hundred yards. The tornado then crossed into Warrick County, Indiana at the Angel Mounds State Historic Site. Several permanent homes were destroyed in this area, along with many others on the north side of Newburgh.
Past Newburgh, the tornado reached its peak intensity (high-end F3) as it tore through an industrial park near Paradise. Further northeast, the tornado passed just south of Boonville and caused a fatality in a vehicle. The tornado then tore directly through the small community of DeGonia Springs, tossing vehicles and destroying homes. Some of the homes in the community were leveled, and three people were killed in a mobile home in this area. The tornado began to rapidly weaken as it passed just south of Tennyson, and then dissipated as it crossed into Spencer County, Indiana. Overall, the tornado damaged or destroyed 500 buildings, killed 25 people, and injured 230 others.