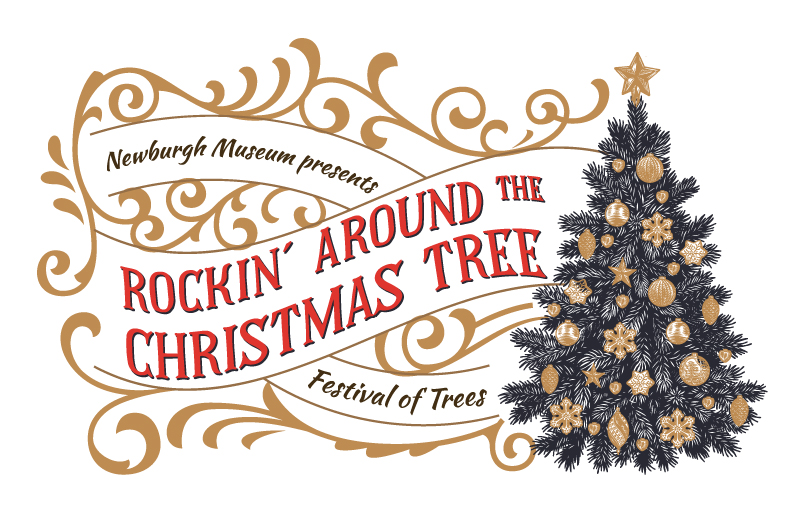 Online Auction – November 1-16, 2020
Open House – November 7, 2020 from 5-7pm
Christmas is just around the corner!  To get us all in a festive mood, Newburgh Museum is presenting Rockin' Around the Christmas Trees…A Festival of Trees.  Decorated tabletop trees (artificial, of course) and gift baskets suitable for holiday gifting will be offered through an on line auction hosted by Curran Miller Auction.  All of the items have been donated by our generous supporters.  The beautiful trees and gift baskets will be on display at Newburgh Museum, 503 State St, Newburgh, IN from Nov 1 through Nov 16. And even more fun, please join us Nov 7, 5-7 pm at the Museum for Rockin' Around the Christmas Trees Open House.  View the trees and baskets and enjoy a hot chocolate and coffee bar with us. The auction is live from  Nov 1 through Nov 16.  We will post a link to the online auction right here once it's live. BID OFTEN AND BID HIGH!!! Win a tree or basket and help support our Newburgh Museum from the safety of your home!
BID NOW on CurranMiller Website 
---
1 – Elfin Magic

Elves bring whimsical magic to everyone during the holidays especially boys and girls who love the excitement of Christmas.

2 – Down on the Farm

Inspired by life on the farm and the cooperation needed to make plenty of family memories.  Includes $25 Gift Card

3 – Tea for Two + Tea Party for Four

Contents: 4 assorted teas, 2 tea cups, cheery teapot, measure and filters and matching storage tin.

4 – Baby's First Christmas

Celebrate your baby's first Christmas with their own special tree.

5 – Just because we like to feed
our birds – hope you do, too.

Contents: Handmade bird house, birdseed, peanut nuggets, hummingbird feeder, hummingbird nectar, mini wire bird feeder, suet cake feeder, bug, nut and berry seed cake, bark butter, Sibley's Backyard Bird Identifier, Wild Birds Unlimited Hobby Guide.

6 – Land of the Free

7 – Silver Bells

Throughout history bells have been rung to announce special events.  We are using bells to announce the 20th anniversary of Newburgh's own Old Dam Band.

8 – Snowmen Frolic in the Woods

9 – Warm Winter Wishes

Hints of winter to come nestled is a snowflake decorated tin.

10 – Christmas Cozy Basket

The Basket is filled with items to warm the heart, calm the nerves and cozy the soul with the love of Christmas.

Contents:  Grey woven basket, Bath and Body Works Shower Gel/Bubble Bath, Tin of special blend Museum Tea, Habersham wickless Christmas Candle, Aroma Therapy necklace, Bottle of Oliver Winery Sweet Red Table wine, Handwoven throw (deep grey color), pink silk hand-woven scarf, Very Blessed pillow.

11 – Bucky Got His Tree!

12 – Warm Winter's Night

Toast the cold evening with a glass of Chardonnay and some yummy snacks.

Contents:  Bottle of Barefoot Chardonnay, Bottle Snuggler Snowman, 2 boxes of Pirouline dark chocolate, 1 cheese cutting board, 1 cheese spreader, 2 gold rimmed wine glasses, 1 Glade air freshener-apple cinnamon, 1 Andes crème de menthe bar, assorted Lindor chocolates.

13 – Meowy Christmas Basket

Basket is chock full of fun for cats and cat owners. Includes $25 gift certificate.

Contents:  stained wooden crate filled with water dispenser, scratch pad, Fancy Feast Gourmet cat food, Purina Cat Chow, grooming tool, cat tunnel, cat themed jigsaw puzzle (300 pc), cat themed hand towel, 2021 Cat calendar, cat food can cap, various cat toys, $25, gift card from Pet Supplies Plus.

14 – Doggone Best Christmas Basket

Many favorite Christmas memories include a pet. This basket celebrates the fun and love mankind's best friend brings to the holidays. Includes $25 gift certificate.

Content:  Stained wooden crate filled with dog leash, dog treats, dog toys, 2021 dog calendar, Tribeca food bowl, 28×38 Ortho bed bolster, self-cleaning grooming brush, dog shampoo, dog pads, dog waste bags, pet towel, Love My Dog hand towel, dog food can top, Pets in the Park jigsaw puzzle (500 pc), and $25. Gift card from Pet Supplies Plus.

15 – Spa Basket

A cotton woven basket is filled with items needed to make a relaxing spa day – everything needed to pamper yourself including wine and chocolate.

Contents:  Woven basket, bath towel, hand soap and lotion, head band, repairing socks, repairing gloves, 2 nail polishes and polish remover, sand and fog candle, loofa bath sponge, 2 facial masks,  bath salts, nail files, house shoes, nail clippers, facial cleansing wipes, Q-tips, cotton balls and cotton wipes, bottle of wine and wine glasses, 2 dark chocolate bars.

16 – Gingerbread and Lollipop Tree
with Matching Tree Skirt

17 – Fine Feathered Friends

Our tree celebrates the cheer our fine feathered friends bring us on a quiet, snowy day especially Christmas Day.  Includes $25 gift certificate.

18 – Petite Christmas on the Go

Includes $100 Casey's gift card.

19 – Coffee Basket

Contents:  2 Christmas cups, coffee filter cone, 2 types of coffee with measure, 2 snow men plates, 2 Christmas kitchen towels, wooden sled, snowman.

20 – Rustic Tree with Spa Gift Card

21 – Beer Brew Basket

Contents:  Haynie's Corner Gift Card $25; Jennings Street Public Gift Card $25; Damsel Brew Pub Gift Card $50; Carson Brewery Gift Card $25; Myriad Brewery Gift Card $25; 2 six packs of IPA beer, 2 tee shirts, 2 beer glasses.

22 – Christmas in Plaid Tree

Buffalo plaid is very traditional and will always be in style for the Christmas season.  The decorations are simple and timeless and will be a wonderful asset to any home.

23 – The "Dollar Tree"

Includes cold cash ornaments ($10).

24 – Christmas in Black and White Tree

Includes 1-night stay at The Farmer and Frenchman.

25 – Mistletoe Christmas Tree

An antique grain measure is the base of a mistletoe tree decorated with small ornaments and topped with a vintage star.

26 – Bottle Brush Tree

A vintage teacup is the base of this vintage style bottle brush tree.